Eguana Bringing Power And Grid Stability To The Residents Of Moloka'i
08.03.2017
---
Installations for Maui Electric's ground breaking deployment of utility owned residential energy storage systems began this week. The systems will enable continued growth of rooftop solar on Moloka'i, including installations for more than 100 customers who have been waiting over two years for technical approval of their contracted Net Energy Metering systems.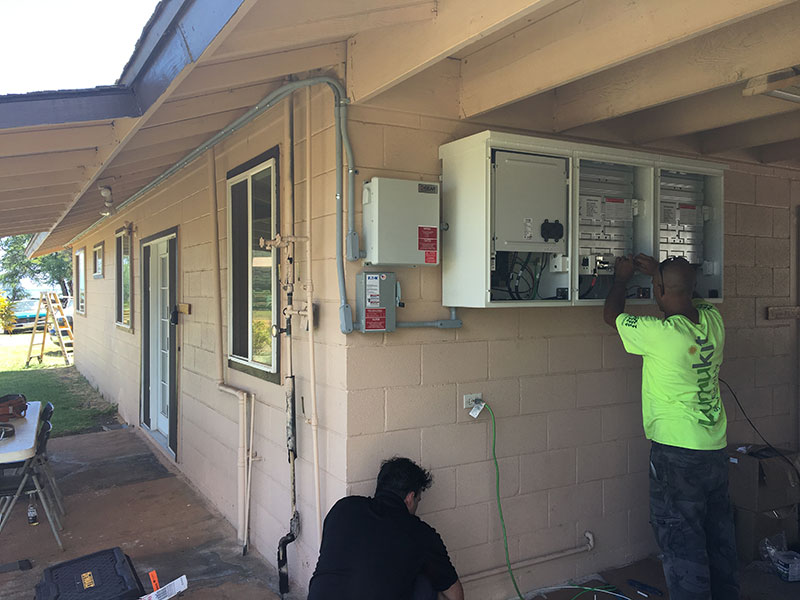 This is the first project in the USA to deploy utility owned residential energy storage system to enable increased customer owned rooftop PV deployments and is critical to the State meeting its 100% renewables target by 2045. The utility plans for Moloka'i to lead the charge, expecting the island to reach the 100% renewables goal 25 years early in 2020. Eguana is proud to be a key partner along with E-Gear LLC utilizing the same residential AC Battery being deployed on the larger islands under the customer owned self supply program where the export of solar power to the grid is prevented through the use of on site storage.
The rapid deployment of residential energy storage systems and rooftop PV is a key to the utility acheiving the state mandate, with systems being installed in half a day rather than several years of planning required for larger projects. Locating the storage alongside rooftop PV also places the systems out on the grid edge where they can be controlled by the utility to stabilize local feeders and solve other distribution and system level issues.
Stay tuned for further updates as this exciting project grows to become a key element of Maui Electric's plan to achieve 100% renewables on Moloka'i.