Consolidating Home Energy
12.10.2017
---
We already know the value that distributed storage provides customers who can stack services like solar self-consumption, time of use arbitrage and backup power to save money on power bills, contribute to grid supply and security and ensure reliable power supply to their home, but this capability is now also enabling other energy suppliers to compete in the electricity market. While electric utilities are not renowned for their customer service, one sector of the energy business has a track record of over a century in building strong, trusted responsive customer relationships and is poised to significantly expand as electricity supply and control moves to the grid edge: Home Heating Oil Suppliers.

By virtue of their trusted position supplying essential fuel to homeowners, heating oil suppliers are relied upon for energy equipment, advice, and even for home security systems. There is no other energy company that builds and maintains their business through such strong face to face relationships. As the electricity business shifts to a more customer-centric model through energy storage, and as customer's understanding of new technologies continues to advance, fuel suppliers are poised to expand these capabilities to take on a key role in customer acquisition, equipment installation, ongoing support and resource aggregation.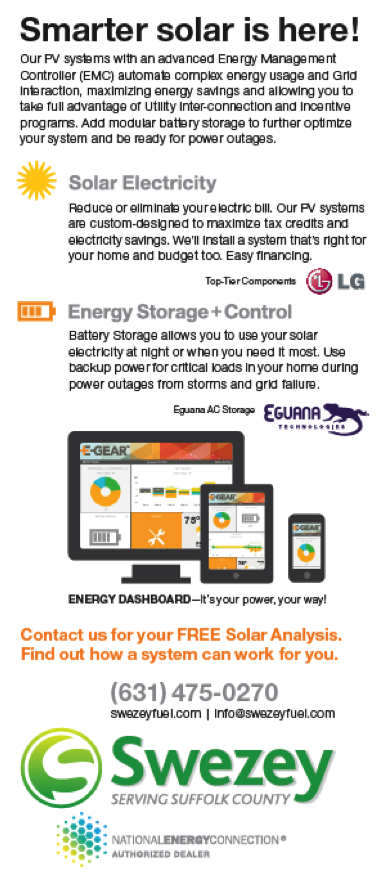 This month, Swezey Fuel of Suffolk County, Long Island is launching a solar + storage offering based on Eguana's energy storage technology. The battery system will provide backup power to oil boilers and furnaces to ensure the home stays warm even during grid outages due to severe weather. When paired with solar, backup operation can be extended for days or weeks, and the customer can save money on their electricity bill while the grid is up.
Best of all, Swezey will be building a network of energy storage assets that can be operated on an aggregate basis to deliver grid services to PSE&G on the east end of Long Island, where it runs one of the nation's most constrained distribution grids. As the New York REV regulatory reforms take hold, energy storage aggregators will have the opportunity to become key players in New York's electricity market and earn revenue through the dispatch of energy storage capacity under their control. We are proud to support Swezey on this new initiative and appreciate the opportunity they provide to deploy a fleet of Eguanas in another distributed energy storage hotspot and for their friendly introduction of Eguana technology to Long Island.