Alectra combines EV Charging with DRMS and Energy Storage
01.19.2018
---
Eguana was proud to take part on January 17 in Alectra Utilities' launch of their 'Alectra Drive for the Workplace EV Charging program' at the Markham Civic Centre. In addition to promoting the adoption of Electric Vehicles, this project includes on-site storage to reduce peak loads from EV Charging and enable flexible demand response capabilities whether or not vehicles are present at the charging stations. Eguana's AC Battery is integrated along with the EV chargers into a Distributed Resource Management System (DRMS) provided by Schneider Electric which will provide Alectra with the ability to dispatch the storage and control EV charging rates as required to reduce on site energy costs and help stabilize the grid.

We see the deployment of EV infrastructure as an important market opportunity for Eguana's commercial AC Battery due to the significant new electrical load it represents and the inclusion of a sophisticated control and communications network. Leveraging this network and infrastructure investment by adding a factory assembled energy storage appliance enables more flexible load profile management and firm capacity that can be offered into grid service programs or directly controlled by the utility itself as needed in real time to enhance grid operations.

We look forward to contributing to a successful program and to further deployments with Alectra and other utilities and EV charging fleet operators across Ontario and the rest of North America.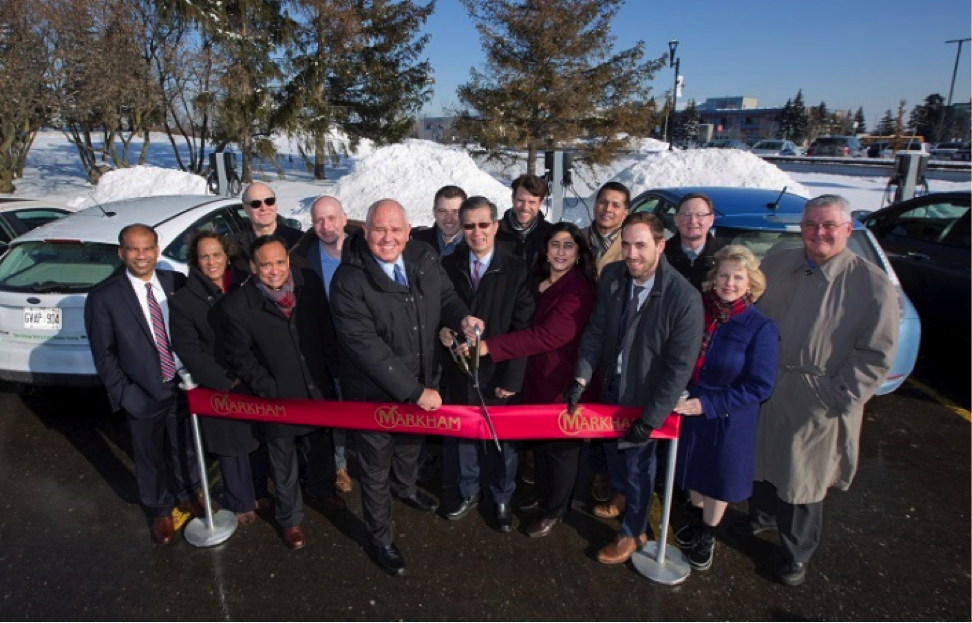 Front: Councillor Logan Kanapathi; Regional Councillor Nirmala Armstrong; Pratap Revuru, Schneider Electric; Markham Mayor Frank Scarpitti; Honourable Michael Chan, MPP Markham-Unionville; Neetika Sathe, Alectra Inc.; Nik Schruder, IESO; Councillor Valerie Burke; Deputy Mayor Jack Heath Back: Steven Vaccaro, Eguana Technologies; Matt Stevens, FleetCarma; Louis Tremblay, FLO; Graham Seaman, City of Markham; Michael Sinnatamby, Aviva Canada; Andy Taylor, City of Markham